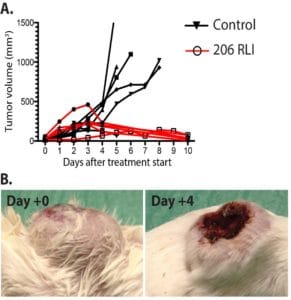 Business opportunity
Solid tumours are a cause of significant morbidity and mortality. This technology has the possibility to effectively treat a wide variety of advanced stage, solid tumours expressing this drug target, including colon and breast cancer. Inven2 is seeking to out-license the technology to pharmaceutical companies and/or biotechnology SMEs for clinical trials either as a single intervention or combination treatment with existing first, second, or third line interventions. The field of immunotherapy represents a market of 100 billion US dollars and is growing steadily.
Technology
The present invention involves a recombinant Nanobody (llama antibody) with an Immunocytokine drug that recognizes a surface molecule (CD206) that is expressed on tumour associated macrophages. These immune cells are an important part of the cell mass in solid tumours and associated with cancer progression and form part of a challenging environment for therapeutic interventions. The nanobody is coupled to a cytokine, IL-15, which is believed to activate the local immune system to attack the tumour.
Advantage
Our data demonstrates an effective and highly significant reduction in tumour mass once the drug is injected by systemic i.p. administration. We have shown this in a preclinical model of Melanoma. The final product could become a large-scale bioreactor produced shelf-stable lyophilized biologic drug, that will be effective upon reconstitution and injection. The therapeutic could also be combined with other treatments.  Therefore, the final product should be possible for shipping at room temperature for worldwide distribution. This is ideal for the market opportunity and production and distribution costs.
Intellectual property
A patent family based on WO2017158436 comprises granted patents in USA, Europe and Canada.