Figure 1 – Invention: A soluble TCR molecule was fused to the signalling domain of a CAR molecule.
Figure 2 – Efficacy: Lysis of tumour cells in vitro by two TCR-CAR constructs when targeting tumour cells using either a DMF5 TCR or RAD1 TCR construct incorporated into TCR-CAR.
Business opportunity
This technology has the possibility to effectively treat malignancies where there is an identified TCR. Inven2 is seeking to out-license the technology to pharmaceutical companies and/or biotechnology SMEs for clinical trials either as a single intervention or combination treatment with existing first, second, or third-line interventions. The field of immunotherapy represents a market of 100 billion US dollars and is growing steadily.
Technology
This invention is a unique platform technology that enables to use TCR on NK cells or other off-the-shelf platforms with the advantages of TCR (intracellular antigen and solid tumour killing capacity) and CAR T cell potency. Our data shows NK92 expressing TCR-CAR are efficient and specifically kill cancer targets. Target cells were incubated with native NK-92 or NK-92 expressing a therapeutic TCR designed as TCR-CAR constructs. Specific killing was detected at different effector to target ratios (E:T).
Advantages
This technology platform will allow the licensee to control this space in allogeneic off-the-shelf therapy with TCR-CAR constructs.
Publications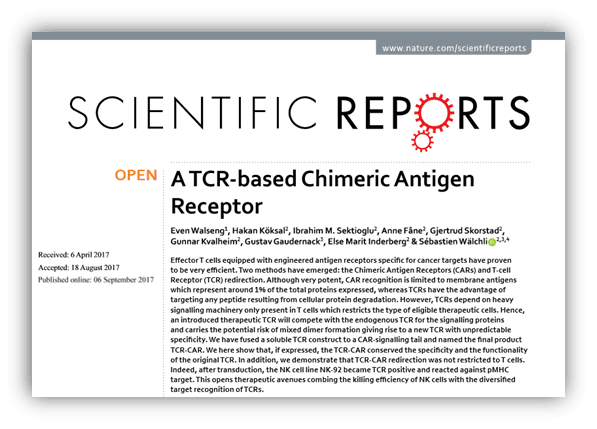 Article in Scientific Reports
Intellectual property
US priority patent application filed in 2017