The platform company Authera, spun out of research at the University of Oslo and Oslo University Hospital, reports that they have entered into a collaborative agreement with one of Europe's hottest biotechnology companies: argenx.
Authera has had a flying start since the company was established in May 2022.
Behind the company are Professor Jan Terje Andersen, Simone Mester, Torleif Tollefsrud Gjølberg and professor emerita Inger Sandlie. The first three are participating in company establishment for the first time, while Inger Sandlie has previously been a co-founder of Vaccibody, now Nykode Therapeutics, and Nextera.
Last October, the company was officially launched with a bang with a scientific symposium during the day where hotshots from the companies Genmab, Roche, Fair Journey Biologics and argenx presented, followed by a more informal party in the evening.
The media got the news about the company and we could read articles such as «Biotek-gründere åpner verktøykasse for farmasigiganter» (in Norwegian) in E24 and «Authera-styreleder: -Smart å legge dette i eget selskap nå» (in Norwegian) in Dagens Medisin and «Har lansert nytt biotek-selskap» (in Norwegian) in MedWatch.
And now comes the news that argenx, one of the fastest growing biotechnology companies in Europe, has been chosen as its partner in research and development related to complex biology involving the cellular receptor FcRn, which is central to several autoimmune diseases.
– The collaborative agreement with argenx is an important validation of our technology platform, says Andersen.
In connection with the agreement Authera and argenx have issued a joint press release. You can read it here.
Below you can read a longer article about the background for Authera, and what they will do in collaboration with argenx.
Research cooperation as a business model
Mester and Tollefsrud Gjølberg are responsible for the day-to-day running of the company, since Andersen has his own research group, which is affiliated to both the University of Oslo and Oslo University Hospital.
'It is really motivating to be up and running. We had both wanted to start a company, and now the time had come,' says Tollefsrud Gjølberg.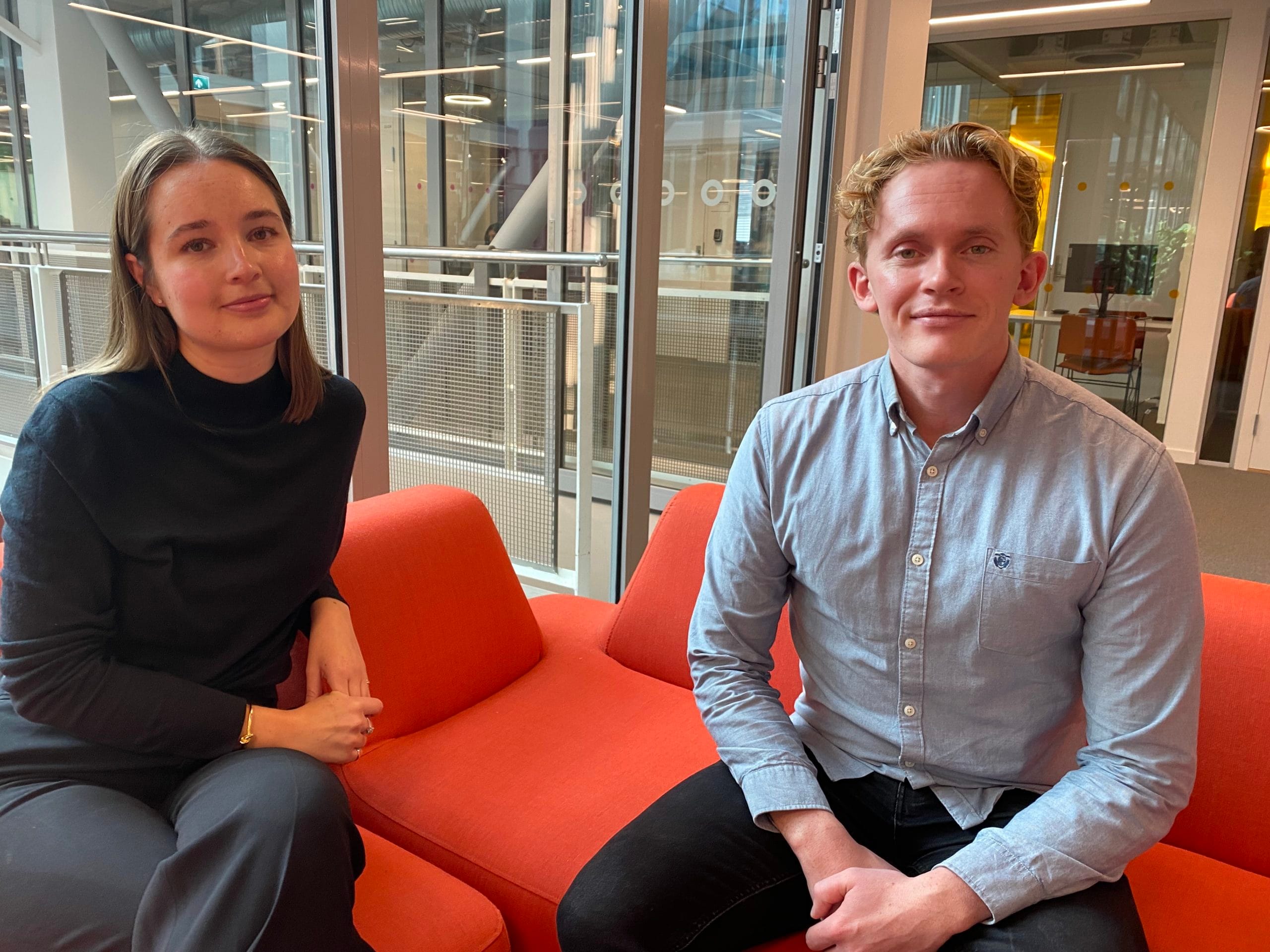 Simone and Torleif have both wanted to start a company for a long time, and are looking forward to continuing with Authera. Photo: Elisabeth Kirkeng Andersen.
'Our business model is to finance the company through research cooperation and the development of drug candidates in cooperation with global players. This will enable us to learn from well-established companies, to validate and further develop our platform as well as to expand our network. We are going for organic growth, where competent capital will be crucial in the long run,' says Andersen.
Together with co-founder Sandlie, he is the researcher with most innovations at Inven2. He is currently part of:
65 innovations
11 patent families
50 industry agreements, covering product sales, cooperation agreements and licences for patents
And the numbers keep rising.
Will design biological drugs
So what can Authera offer? Given that the company is based on a versatile technology platform, there are many possibilities, and it opens doors to collaboration with industry partners with a range of key interests.
'We have in-depth knowledge about the interaction between IgG antibodies, albumin and a cellular receptor called FcRn, and how they interact in the human body. We combine this molecular and cellular understanding with a toolbox that enables us to validate and tailor FcRn-targeted drug candidates. The possibilities are many and, in principle, not limited by disease indication. If you have an antibody or any protein of interest that can lead to a drug, then Authera can be an attractive partner,' Andersen explains.
Monoclonal antibodies of the IgG type are the fastest growing class of therapeutics. More than a hundred have already been approved for clinical use, and more than 1,000 are currently undergoing clinical evaluation. In addition, there is growing interest in the use of albumin as a drug carrier.
The agreement with argenx deals with research and development based on a basic understanding of the receptor FcRn.
In connection with the agreement, Peter Ulrichts, Chief Scientific Officer, at argenx says:
"As a science-based organization leading the research on FcRn blockade, we are excited to collaborate with a like-minded partner in Authera to advance our understanding of the fundamental biology associated with FcRn in addressing immunological disorders. We believe we are at the beginning of realizing the full potential of FcRn, and hope that through this collaboration we can continue to demonstrate the value of the therapeutic application FcRn can have for many people living with autoimmune diseases."
Kick-off in Boston – the Mecca of biotechnology
Authera was formally formed in May 2022, although its real kick-off took place in Boston in April. Andersen was invited to a closed conference with industry representatives, and he insisted on taking Mester and Tollefsrud Gjølberg with him.
'Jan Terje gave the introductory talk, which Simone and I followed up by giving examples of how the platform can be used to reveal both new biology and how different antibody designs result in completely different outcomes that can be translated into how they may behave in the human body. We then announced that we were in the process of launching a company based on this knowledge. That was something the audience probably wasn't expecting to hear,' says Tollefsrud Gjølberg.
'The response was overwhelming. Representatives from a range of companies reached out to us during the rest of the conference, which made us even more motivated to invest in Authera. It was extremely motivating to get this response,' Mester says.
So, the real kick-off took place in Boston, the Mecca of biotechnology, like Sinatra sings about, though about a different city: 'If you can make it there, you can make it anywhere.'
'Over time, we have seen that it will be possible to convert our toolbox into a unique platform of commercial value. No other companies can offer such a solution in combination with our in-depth understanding of biology. I strongly believe in the added value of the researchers following the company. Our company is based on long-term research that is published in peer-reviewed journals that are relevant for a biotech sector that is undergoing rapid growth. This showcases the value of putting biological insight into use,' says Andersen.
'Jan Terje has been extremely good at challenging us, sharing his network and taking us along on trips – it has been really educational,' say both Mester and Tollefsrud Gjølberg.
It is the same thing that Inger Sandlie did for Andersen when he was her doctoral student and was invited to attend meetings, including collaboration with global industry. Read more about this in the following article: 'Innoverer på grunn av pasientene (in Norwegian)'.
Inven2 has contributed to the journey
The combination of in-depth biological insight accumulated through long-term, focused basic research and an understanding of the commercial potential, together with an international network, have great added value when developing a company, according to Gerbrand Koster. He is project manager for all of Andersen's innovations in Inven2. In Authera, the founders have licensed their own innovations.
'We have contributed market validation of the tools that Authera has introduced, negotiated the price for a number of assignments and drawn up cooperation agreements on behalf of the lab that Andersen is heading. We are looking forward to what follows. These are really capable researchers who are going all in to create something, and we are cheering them on,' Koster says.
Gerbrand Koster is project manager for all of Andersen's innovations in Inven2. Photo: Inven2/Moment Studio.
With him in Inven2 he has lawyer Helle Thorsen, IPR Manager Kirsten Stangebye and business developer Ken Rosendal. The top management of the innovation team, Jens Halvard Grønlien and Mohammed Amarzguioui, have also contributed.
Would you like to get to know the youngest entrepreneurs behind the company better? Then you must read on:
Have known each other since 2012
Both Mester and Tollefsrud Gjølberg are 29 years old. They took their bachelor's degrees at the Department of Biosciences at the University of Oslo at the same time, graduating in 2015.
Tollefsrud Gjølberg went on to take a master's degree at the Institute for Cancer Research. Already as a master's student, he saw himself one day starting a company, which he did during his final year as a student.
Smart Lab Solutions was established through Inven2 Start, which was previously a programme for student entrepreneurship at Inven2. Through the company, he and the other founders took part in VentureCup, coming in second place. As the company's CEO, he gained valuable insight into and experience of research-driven innovation. He was often asked about his own background, however, specifically about the absence of a doctorate on his CV. He therefore applied to Andersen's group 'The Laboratory of Adaptive Immunity and Homeostasis' to plug this gap.
He took his PhD as part of a cooperation project with the Department of Ophthalmology at Oslo University Hospital.
'It was a very rewarding time for me. Joining Jan Terje's group and learning how in-depth molecular and cellular research can be combined with collaboration with industry was a real eye-opener for me,' says Tollefsrud Gjølberg.
Mester has also been both a master's and a PhD student at Jan Terje's lab, where Mester and Tollefsrud Gjølberg's paths crossed again. In between pipetting and research, they talked about starting a company together based on their research at the lab.
'I was lucky enough to have one of my projects accepted by SPARK, an innovation programme for health-related life sciences at the University of Oslo. During this period, I learned how to translate research findings into technology or products, how to develop a patenting strategy and to interact with global industrial partners. I was able to travel and give presentations in different forums. It has been a process of self-development. This has been important experience that I now take with me in my role as CEO of Authera,' says Mester.
Before studying at the University of Oslo, Simone attended Ullern Upper Secondary School, where she participated in a collaboration between the school and Oslo Cancer Cluster. Her biology teacher at that time, Ragni Fet, herself a former cancer researcher, advised Mester to study molecular biology.
'To begin with, I had great doubts about whether this was the right thing for me, but it has really proved to be just that,' says Mester.
Today, she is mentoring students taking the research programme at Ullern. She invites them to her lab and tells them about her path to becoming a researcher, and now founder of a company.
Mester and Tollefsrud Gjølberg both believe that this is an exciting time in their careers.
'There is so much we have to master. We have to keep everything together and learn everything, it's a steep learning curve,' Tollefsrud Gjølberg says.
Authera is based on many years of research, and Torleif and Simone look forward to translating the knowledge from the laboratory into products and services. Photo: Authera.