Business opportunity
Inventors at the University of Oslo/Oslo University hospital have developed a unique and versatile antibody Fc technology platform ("REW"). The technology increases the serum half-life and biodistribution properties of IgG antibodies and Fc fusions, with or without enhancing effector functions. In addition, the technology attenuates binding to bacterial defense proteins and reduces binding to rheumatoid factor.
Improving serum half-life and biodistribution of IgG antibodies and Fc fusions result in favorable bioavailability and tissue localization while at the same time reducing the dose and frequency of dosing – tailored for both prophylaxis and therapy.
Technology
IgG has a natural long half-life due to pH-dependent binding to FcRn, a broadly expressed receptor. This interaction rescues IgG from lysosomal degradation via a cellular recycling mechanism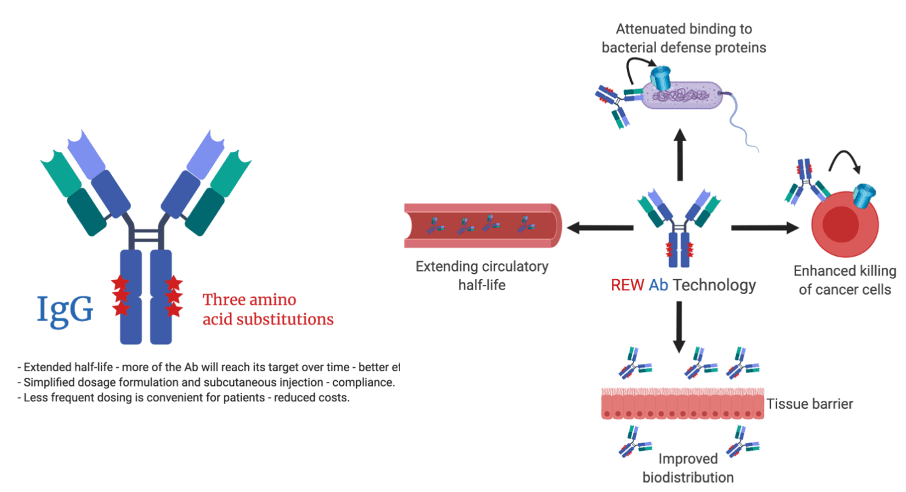 Advantages
The REW Fc technology favorably improves binding to human FcRn, and as such the engineered IgG Fc is more efficiently rescued from intracellular degradation. This results in extended serum half-life. In addition, the REW Fc technology enhances transport across polarized cellular layers, and also enhances complement activation and other effector functions in a target dependent manner. Finally, binding to bacterial Fc binding defense proteins is greatly reduced, which may be an advantage in design of anti-bacterial antibodies.
Intellectual Property
A patent family is in national phase (WO2017158426).